muNICIPAL | INSTITUTIONAL | OFFICE
GARLAND CITY CENTER
Garland | Texas
The City Center project is a public/private partnership which entailed the redevelopment of the 1960's era City Hall, construction of a parking garage with wrap-around apartments, streetscape development and a new Arts Plaza. DCBA designed all streetscape improvements which included hardscape, site furnishings, lighting, and landscaping. These improvements followed the guidelines developed by DCBA previously for the Garland Downtown Urban Design Standards. The Arts Plaza was designed with enhanced paving, seating, unique bollard lighting, landscaping, and a large sculpture selected as a centerpiece. Extensive coordination was required by DCBA to coordinate between two architectural firms and their respective consultants. The City Center Project is hoped to be a catalyst for continued redevelopment of the re-invigorated historical downtown.
Services provided:
Hardscape Design
Downtown Design Standards
Landscape & Irrigation Design

ODESSA COLLEGE
Odessa | Texas
DCBA provided master landscape architectural design services for the public two-year community college with an annual enrollment over 15,000 students. With the addition of the new Campus Center, Math & Science, and a Central Services Buildings, a 2-acre central outdoor space was designed by DCBA to encourage students to remain on campus between classes. DCBA also redefined pedestrian circulation, lighting, outdoor seating, and landscaping for other areas of the 80-acre college. Funded as part of a $60 million bond program, DCBA created a central amphitheater for large campus functions, secondary gathering spaces for solitude or more intimate social interaction, and a dry stream with rock and boulders to emphasize connectivity, as well as, address drainage issues. Landscape design utilized trees to emphasize major pedestrian connections and masses of ornamental grasses and drought tolerant shrubs.
Services provided:
Hardscape Design
Design of Bioswales and Stormwater Re-use for Irrigation Design
Landscape & Irrigation Design
COPPELL SENIOR & RECREATION CENTER
Coppell | Texas
This heavily wooded site is located adjacent to Grapevine Springs Park, a beautiful historic park with natural springs, rustic stone walls, and other features constructed by the Work Progress Administration (WPA) in 1936. Working with the architect, DCBA sited the building and laid out the entrance drive and parking lots in an effort to save as many existing trees as possible, capture optimum views to the adjacent park, and take advantage of existing treed fence rows for solar efficiency. Also working with the natural topography of the site, DCBA designed bioswales which filter roof drainage and parking lot drainage to a small pond which is used for landscape irrigation in the maintained landscape zones immediately surrounding the building. A predominant amount of the site was left in its natural state. Areas disturbed by construction were re-established with native drought tolerant grasses. DCBA designed the monument signage, decomposed granite trails, and a deck/seating area. The project achieved Silver LEED certification.
Services provided:
Site Planning / Parking Lot and Entrance Drive Layout
Hardscape Design
Design of Bioswales and Stormwater Re-use for Irrigation Design
Landscape & Irrigation Design
LEED Calculations
FAIRVIEW TOWN HALL
Fairview | Texas
Located within The Villages of Fairview retail and residential development, the municipal building features a plaza with fountain and trellised walkways. The building, set at an upper elevation to capture views down the center's east/west axis, features a natural stone veneer which is carried throughout the landscape. Stormwater, including that from roof drainage, is captured and diverted to a small pond where it is pumped to irrigate the property. An overlook plaza at the pond is at the terminus of a veteran memorial walkway featuring stone sculptural elements honoring the armed services.
Services provided:
Hardscape Design
Fountain Design
Pond Design
Landscape and Irrigation Design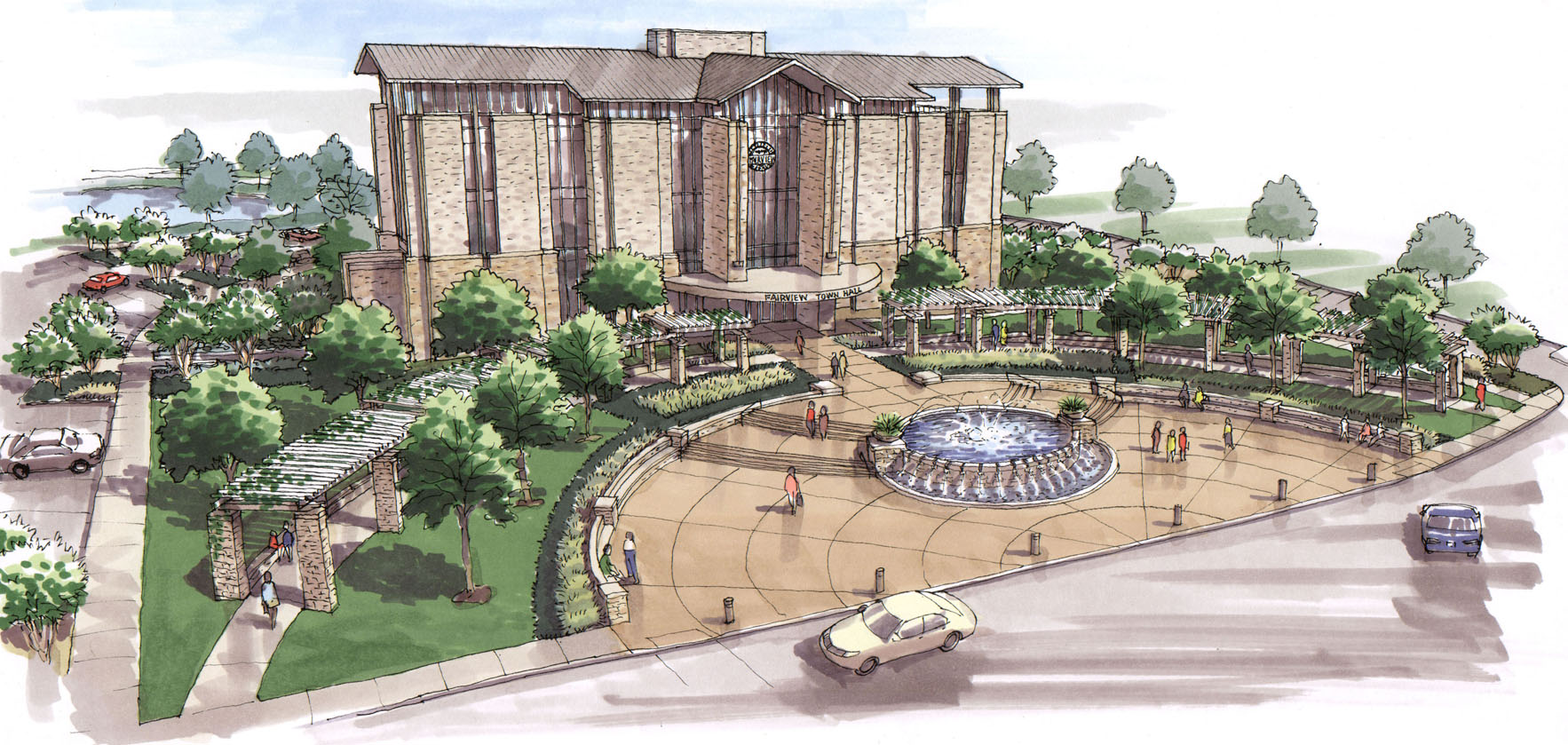 Seguin Public Library
Seguin | Texas
A new 43,000 s.f. public library located in the county seat of Guadalupe County, Texas. Working with the architect, DCBA sited the building and parking lot to preserve numerous heritage pecans, elms, and live oaks which existed on a beautiful site located next to Walnut Creek. Views from the building were maximized to take advantage of the park-like setting.
Services provided:
Site Planning
Hardscape Design
Landscape and Irrigation Design
LEED Calculation
ALLEN FIRE STATION #5
Allen | Texas
Continuing as a contributor to projects seeking LEED certification, DCBA was proud to be part of the design team for this project which was awarded Platinum certification, the highest level attainable. LEED (Leadership in Energy and Environmental Design) is a set of rating systems for the design, construction, and maintenance of green buildings. Developed by the U.S. Green Building Council (USGBC), LEED is intended to help building owners and operators be environmentally responsible and use resources efficiently. The fire station was sensitively placed in a wooded setting, maintaining natural topography and large specimen trees. The natural landscape is accented with additional native and drought tolerant trees, shrubs, and grasses as well as "Rail Fire", a sculpture by Chris Fennell which utilizes recycled fire ladders. DCBA's specific contribution for attaining the LEED certification was reduced water usage through plant material selection and irrigation design as well as the protection and restoration of natural habitat.
Services provided:
Hardscape Design
Landscape & Irrigation Design
LEED Calculations
ALLEN CITY HALL & CIVIC PLAZA
Allen | Texas
The landscape surrounding the City Hall was initiated to create a civic place for the citizens of Allen - a place of beauty and pride in one's home town providing a focal point and centerpiece for the collection of civic buildings comprised of the City Hall and two other municipal buildings. A thoughtful landscape environment which creates a simple, yet unique atmosphere of grass, trees, water and stone emulating the local prairie environment within the City of Allen.
A small and judicious use of water emerges from the fountain and begins a journey south, through the linear site toward the City Hall building. The fountain, symbolizing the precious nature of water, is meant to engage and activate children and adults alike. The stream is also reflective of the many creeks which traverse the city.
Upon reaching the City Hall, the stream transitions into a pool and what appears to be a large, horizontal strata of limestone bedrock which visually forms the foundation for the City Hall. The architecture appears to be organically growing out of the limestone strata in such a way that the building and landscape are integral with each other.
Services provided:
Successful Design Competition Team Member
Hardscape Design
Landscape & Irrigation Design