MUSTANG LAKES
Celina | Texas
DCBA provided open space and amenity center planning for Mustang Lakes, a ±1800 lot master-planned community located in Celina, a small North Texas town which is evolving from a small farming community into a larger, urban city. Mustang Lakes was formerly known as Twin Eagles Farms, a thoroughbred horse ranch owned by former Dallas Mayor Bob Folsom. Mustang Lakes amenities include over 60 acres of open space, nearly 10 miles of trails and extensively landscaped perimeter and major internal streets.
Previously the main ranch house, now known as The Club at Mustang Lakes has been renovated to include over 12,000 square feet of interior space. DCBA planned the layout of the outdoor amenities surrounding The Club to save and take advantage of the many large Live Oaks and other shade trees originally planted by the former owners. Within a 20-acre park-like setting, the club amenities include large event lawn for community activities, multi-level resort style pool with waterfall and spray jets, 25 meter lap pool, poolside shade structures and tanning decks, four competition tennis courts, and multi-level playground with climbing features utilizing natural boulders.
Unique to any other local residential community, the amenity center features an island within the adjacent 5-acre lake. DCBA worked closely with the project's civil engineer in the design of the lake to meet detention criteria while providing the island for a unique experience. The island has a small stage area and event lawn for group functions as well as an associated fishing deck.
Services provided:
Amenity Center Site Planning, Open Space and Trail Design
Pools and Playground Design
Hardscape Design including Monumentation and Signage
Landscape Design
The bridges at las colinas
Irving | Texas
The Bridges at Las Colinas is a 118-acre residential land development containing 400 single-family lots in Las Colinas, a 600-acre master planned community in Irving, Texas. Built around a lake, the community contains over 12 acres of open space, parks, and trails.
DCBA developed the theme for the landscape elements for the project utilizing modular sandstone blocks, black granite, and cast stone in an overall contemporary context. DCBA also created a series of monumental features utilizing water jet cut metal panels, each with a unique abstract botanical theme. These elements are featured at the community's primary entry, as well as, on an internal vehicular bridge which is highly visible from highly trafficked State Highway 114. Internally lit, the eye catching art elements become beacons announcing the community and present a unique identification for its residents.
DCBA work within the development also included a 1.1 acre park with unique splash play area, meandering stream, and playground.
Services provided:
Hardscape Design including Monumentation and Signage
Bridge Enhancements (coordinated with Structural Engineer)
Parks and Trail Design
Landscape & Irrigation Design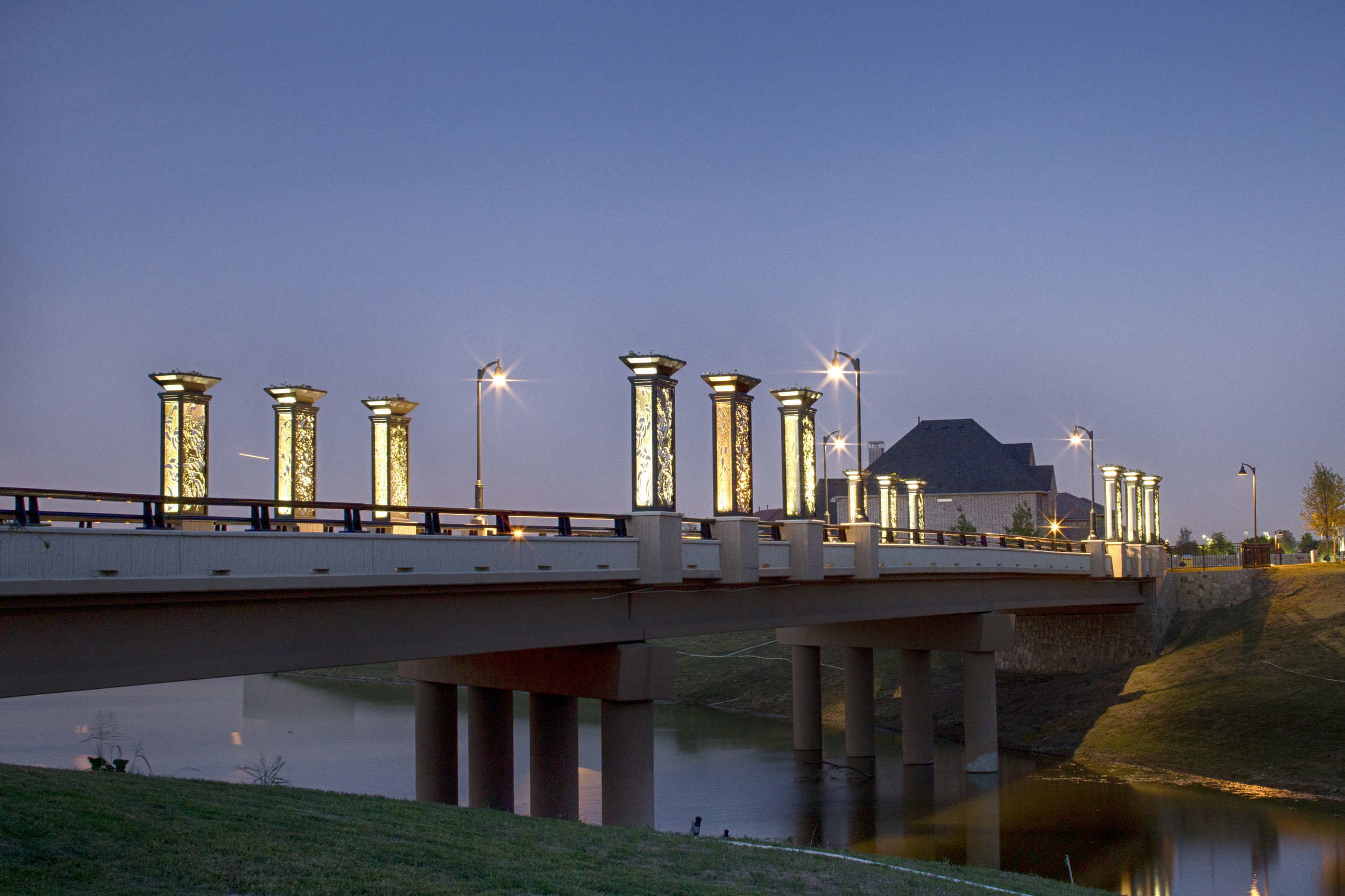 Winding creek
Southlake | Texas
Winding Creek is an intimate community with picturesque views of a waterfront oasis in the heart of Southlake, offering a lush, park-like setting with ponds, dramatic water features, and walking trails with the soothing sounds of a winding creek. Many unique site elements existed on the site built personally by the previous owner, a stone mason. These included rustic serpentine walls, a bridge, and other garden features. These feature were incorporated into Winding Creek's design, as well as, the addition of a tower feature and boulder-lined water system which carries natural drainage through the site.
Services provided:
Hardscape Design including Monumentation, Signage, and Trails
Fountain and Playground Design
Landscape & Irrigation Design
Bidding and Contractor Management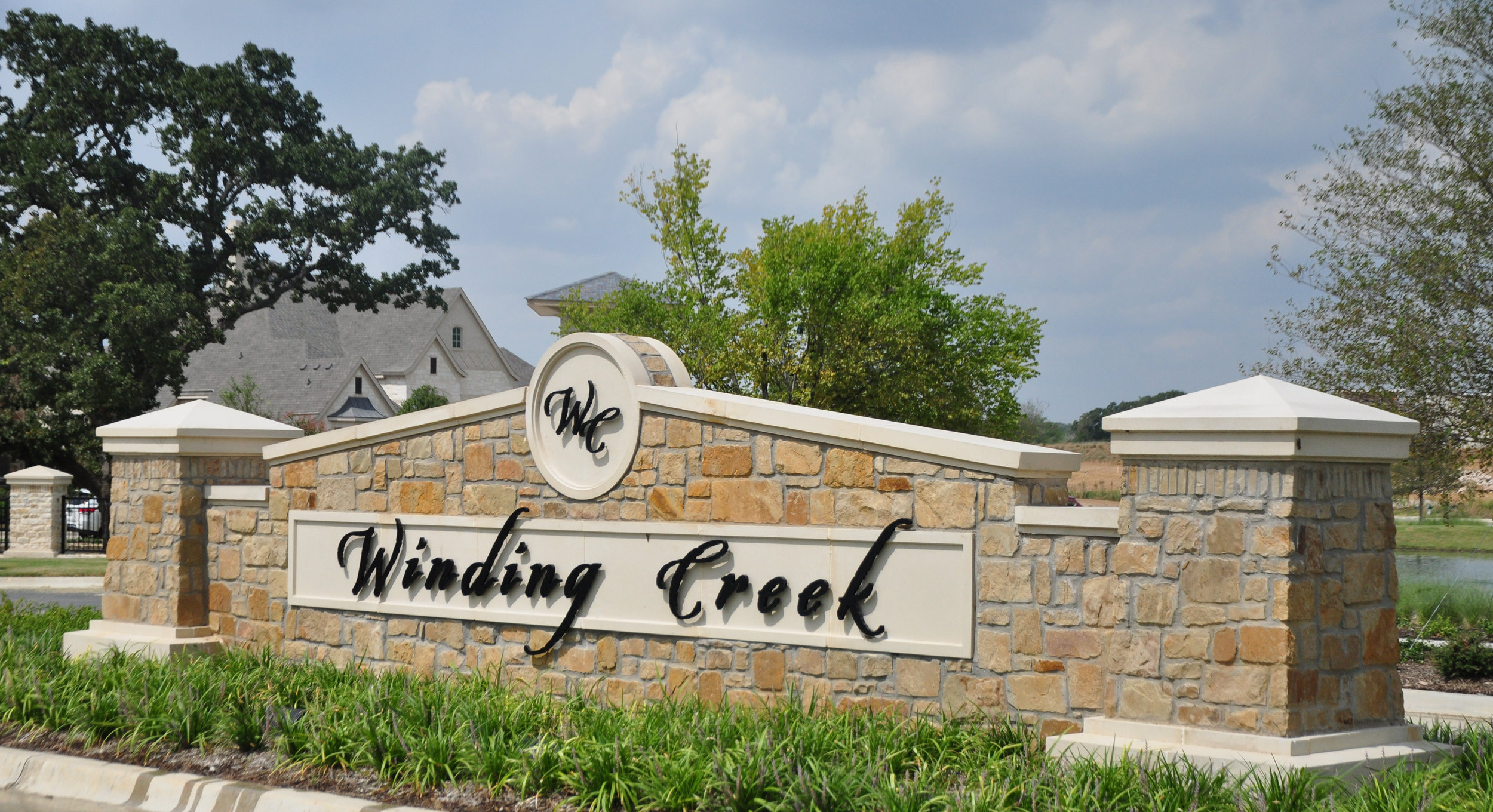 westhaven
Coppell | Texas
Westhaven contains 297 high density lots on 94 acres fronting the south side of highly trafficked S.H. 121 in Coppell, Texas. To capture attention from the highway, DCBA designed a stately guardhouse with signage and other features utilizing a unique combination of gray/brown stone with complementing tan cast stone. This theme was carried throughout the site, repeated in a number of locations in the 35 acres of open space. The development is also enhanced by playgrounds, a pond overlook, and an extensive trail system connecting by means of a bridge to Coppell's largest public park. DCBA's services for the project not only included design, but coordination and observation of contractor's quality of work on the developer's behalf.
Services provided:
Hardscape Design including Monumentation and Signage
Fountain Design
Landscape & Irrigation Design
Bidding and Contractor Management
Ovilla Estate
Ovilla | Texas
Master planning of a 30-acre estate involved integration of a 16,000 square foot home within a beautiful site with rolling topography and mature trees. Handling site planning, DCBA also provided the design of all exterior elements to complement the Tuscan style of the home. Upon entering the property through massive gates framed with stone walls, the initial view is of a pond designed by DCBA as the foreground to the home. The entry drive, consisting of textured pavers, winds around the pond capturing views to a boulder-lined stream and terminates in a motor court. Other design elements included an intimate interior courtyard, resort style pool, fishing lodge and deck, perimeter walking trail, and security walls composed of stone and stucco to coordinate with the architectural materials used on the home. Landscaping complemented the natural setting with many species of edible fruits and berries at the owner's request.
Services provided:
Master Planning
Hardscape Design including Screenwall & Gates
Pond and Pool Design
Landscape & Irrigation Design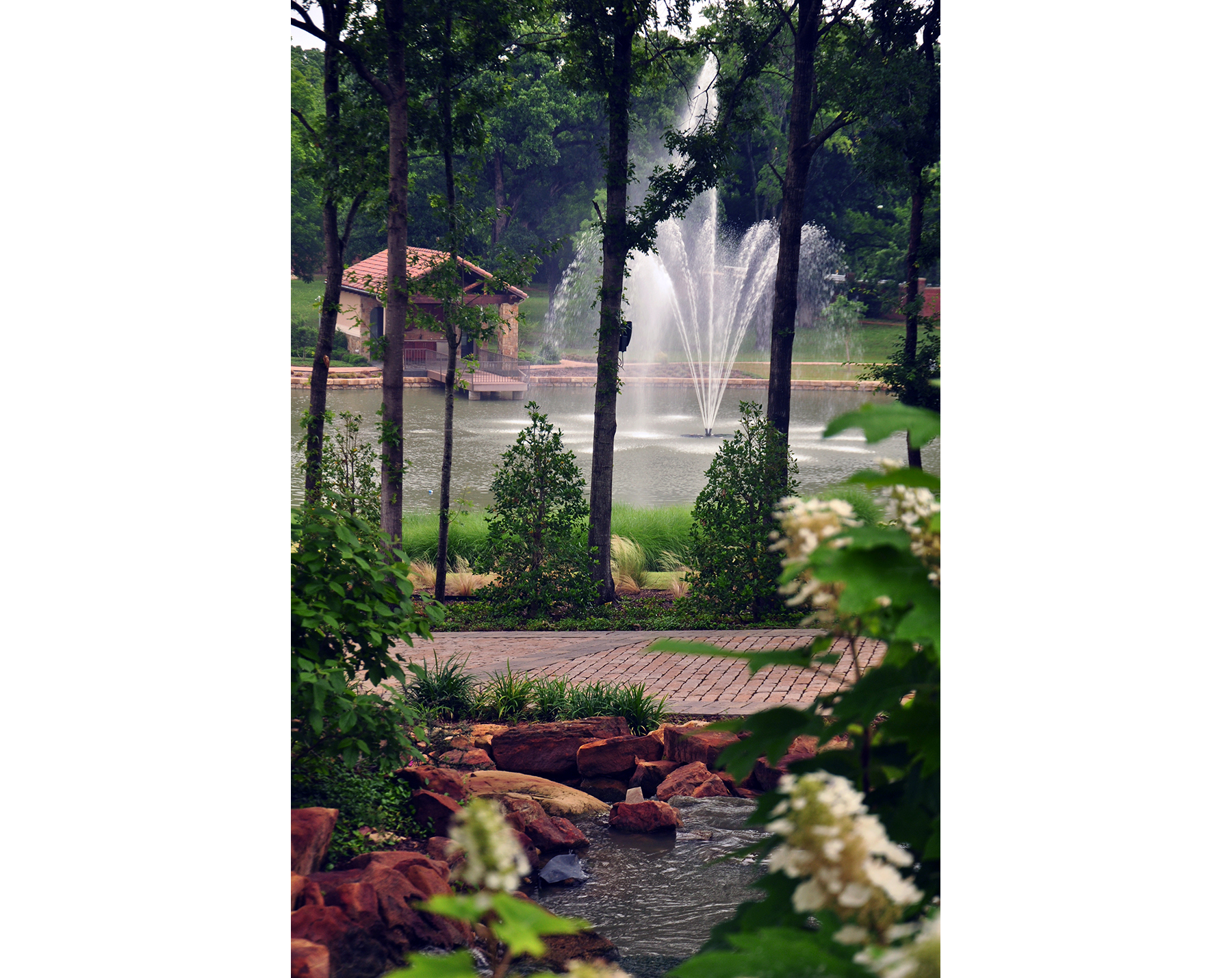 Newman Village
Frisco | Texas
A 521-lot high-end residential community features a 3.5 acre central park with community/marketing building, plaza, fountain, trellis, enhanced paving throughout, decorative lighting, and lush landscaping. The development contains numerous lot sizes and product availability as well as number of pocket parks, playgrounds, and feature areas. The development's theme is based on art and is exemplified with numerous sculptures located in key areas throughout. With a monumental entry development, beautiful guardhouse, mature tree plantings and a roundabout with large sculpture, the drive-in experience for the community is striking. DCBA completed the design of the community's amenity center which includes resort style pool, splash play area, and four tennis courts. DCBA's involvement started with the project's inception and included development guidelines to be distributed to builders.
Services provided:
Concept Design & Theming
Hardscape Design
Amenity Center Design including Pool, Tennis Courts, and Playground
Site and Landscape Lighting Design
Landscape & Irrigation Design